X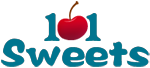 Get Great Recipes Free!
101Sweets™ provides the popular recipe search & web search on your New Tab
Make Your World A Sweeter Place!
Here at 101Sweets.com, we want you to get creative when it comes to your desserts. Browse by category, look for recommendations, and even get tips on desserts for individuals with diet restrictions!
We want to make sure that whatever kind of dessert you want to make, we will have an easy-to-follow recipe just a few clicks away.